To create this piece, I interviewed and solicited texts from my homeless friends (most of whom are members of the Springfield Street Choir) about their lives, experiences, and opinions, and used their words as best I could to assemble the pieces of music you hear here.
I have attempted to confine my editorial work to structures as much as possible — rearranging thoughts for flow, rhyme, and structure, while preserving the language, meaning, and feeling of the original texts to the greatest extent I could. I have also attempted to represent a wide range of viewpoints, not just those that serve my advocacy agenda.
To further spotlight the voices of my unhoused friends, there are four short pieces of musique concrete that serve as transitions between the pieces, assembled from the original interviews, from other pieces of audio provided by my homeless friends, and from a few other relevant sources.
It is my hope that you hear the beautifully articulated, piercing words in this song cycle, give credit where it is due — to the brilliant, beautiful, exceedingly human people living on the streets of this city — and let that move you to generosity, advocacy, and activism around this pressing humanitarian crisis.
Much love to Mike H., Paul Sartin, Katy, Blake A., Nino A., Kevin H., and others who shared their wisdom and insights with me.
Special thanks and love to Coco, who was my first & dearest homeless friend, and who has provided invaluable guidance in this project in particular and in my worldview in general; to my parents for their unceasing support and encouragement, to Christie Love who truly lives up to her name, and to SCC Artistic Director Chris Brammer, for being a terrific collaborator and providing endless insight and support for all of my crazy schemes.
—Katie Kring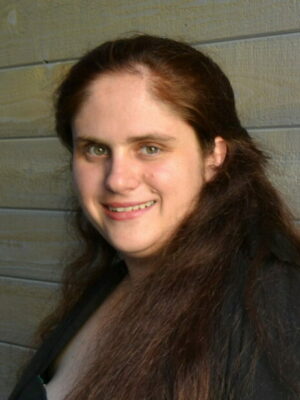 Katie Kring is a composer, writer-of-musicals, baker and alto. Katie's choral works and commissions are performed internationally and she has served as Springfield Chamber Chorus's Composer-in-Residence for several years. Her "At the Hour of Closing" was the winner of the 2019 MCDA Opus Award. She is particularly interested in creating work that empowers disadvantaged communities and is a passionate advocate for writing good parts for altos. Katie's musical theatre works include PEARL, ONWARD, FARMERS MARKET THE MUSICAL (about the time she got kicked out of the farmers' market — twice!), IN THE SWIM and THINK BIG for the Monterey Bay Aquarium, and KELLY THE DESTROYER VS THE SPRINGFIELD COBRAS. Her first opera, SWEET LOUISA, is slated to premiere in 2022. Katie is the owner of Pickwick & Cherry, a bakery & cooking school, and an adjunct professor in the Missouri State University Music Department. In 2019, she founded the Springfield Street Choir, a choir made up of people experiencing homelessness and extreme poverty. She received her MFA in Musical Theatre Writing at NYU and her BFA in music at the University of Michigan, where she danced 25' up a tree and lived to tell about it.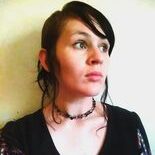 Coco is a survivor of mental illness, domestic violence, addiction, and over a decade of collective homeless experience. They have ridden the rails, slept in vans, tents, and trap houses, overcame addiction, been locked up for petty poverty crimes, and parented some terrific children. Throughout, they have remained a loving parent, a brilliant writer and communicator, and a fierce advocate for justice for those experiencing poverty and marginalization.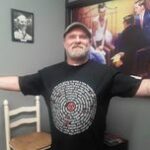 Paul Sartin is a man who is a welter of contradictions – a spectacularly articulate man who isn't afraid to throw a punch, someone who loves very deeply but who has been hurt in impossible ways, and who has a rap sheet that says he carries the potential for danger, but who has only ever made me feel safe and protected to have him around. He has overcome mental illness, addiction, prison, and 8 years on the streets, and has been clean, sober, and housed since March of 2020.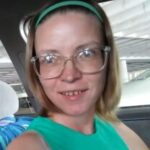 Katy arrived in Springfield fleeing domestic violence and battling active addiction. She sought stability in shelters but was permanently resigned to her car as shelter options expired one by one. She learned first-hand how difficult it is to find safe places that would allow her to park and sleep. Katy achieved sobriety before the pandemic but struggled to keep her commitment to mental health and self-care as an undiagnosed neurodivergent adult. As many as 1 in 7 homeless adults are undiagnosed with developmental neurodivergent conditions that make even an ordinary housed life difficult. Katy boldly uses her experience in tandem with her passion for learning to advocate for herself and those who have struggled to survive on the streets of our city and continue her lifelong search for belonging, making her way in a "community of outcasts" as she did. Katy has been housed for about a year now; however, she is a consumate researcher who is always exploring best practices on addressing homelessness, poverty, disability, and mental illness. Voices and experiences like hers are a desperately needed channel in our community to create effective solutions to improve the quality of life for our unsheltered citizens.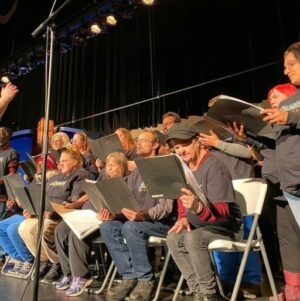 The Springfield Street Choir is a choir for people in Springfield, Missouri who are experiencing homelessness and/or extreme poverty and deprivation. It began in October of 2019 at the erstwhile Connecting Grounds church with just 16 singers, and by the time it was forced to shut down because of the pandemic, had had over 300 homeless singers attend at least one rehearsal, performed for hundreds of people at the Springfield Art Museum and on The Mystery Hour, and been the subject of an award-winning feature-length documentary "Songs from the Streets." After a not-a-particularly-successful attempt at covid-era choir in a parking garage in late 2020, the Street Choir returned to regular rehearsals in April of 2021 and will be resuming performances soon. Many of the texts in this piece were taken from conversations with its members.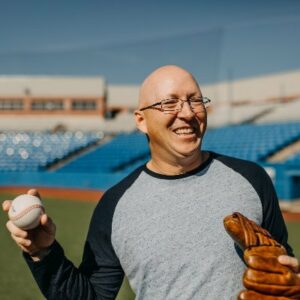 Ethan D. Bryan is a storyteller whose narratives explore what it means to live a good story. At the age of six, he lost all of his hair due to an immune-system disorder called alopecia. Ethan knows about overcoming personal obstacles and being bullied. He also understands the power of hope, persevering through hundreds upon hundreds of manuscript rejections. The author of ten books, his writings earned him an opportunity to speak at the National Baseball Hall of Fame, an invitation to the White House for the Royals World Series championship, and endorsements from several former MLB players including Jim "The Rookie" Morris. Ethan has appeared ever so briefly in an ESPN 30-for-30 and as a background ballplayer in an Emmy-award winning documentary (First Boys of Spring). Ethan played catch every single day of 2018, an effort that came to be known as Catch 365 and documented the journey through a daily blog.
ABOUT THE SONGS
ONE: LAST NIGHT
by Coco
"The shelters weren't open last night and it was so cold, I was afraid to go to sleep because I didn't think I would wake up.
What is the word for wanting to go home and having no home? "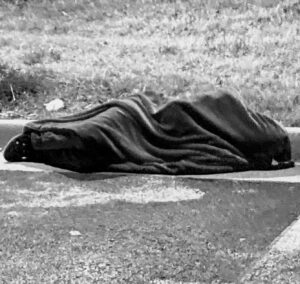 "The text of this piece is the verbatim Facebook status of my dear friend Coco after a long, cold night in February of 2020. At the time they posted this, they were homeless and sleeping in an unheated van.
In Springfield, MO, the current guidelines set by the Continuum of Care only open the shelters when the temperature is forecast to be 32 degrees or less for four or more overnight hours, without any consideration for windchill or precipitation. Medical science tells us hypothermia can begin to set in at temperatures below 40 degrees for people who are not dressed for the weather, and at even higher temperatures when people are wet.
Thus, it is in fact entirely possible to freeze to death on nights that are too warm for the emergency cold weather shelters to open. The musical setting attempts to capture the haunting fear, the crystalline, malicious cold, and the anger and despair of having nowhere to go home." – KK

Every single movie's
ending faded to the black
whether it's a coronary violence
(a massive heart attack)
or it's a flyer from the fire
of an automatic Mack
you get a go
and then it's over
and you never coming back. Every single life is ending
pretty much the same
as just a struggle for the money
or the love or for the fame
and it's a fight like every night
for all the hungry sick and lame
and then you die
a year goes by
and no one even knows your nameEvery single planet's
just a small exploding rock
on ours the lives of all the greatest men
like Roosevelt and Bach
are interlocking with the beggar
and the traders of the stock
still the universe surrounding them
is winding down the clockFor every single friend of mine
I've ever had to lose
is still a ghost that I am carrying
inside my tennis shoes.
The nihilist is wandering past the woods,
so lovely dark and deep
'Cuz for them
I still have miles to go
before I sleep.
"I asked my friend Coco, who I knew to be a brilliant writer, to write a lyric for this project, and within about an hour, they'd sent me this expertly-crafted text. From the exquisite rhyming, driving scansion, and poetic references, you can clearly see their brilliance, anger, resignation, and resilience.
For Coco, and many of my other homeless friends, their lives are marked with the relentless grief of losing people they love to overdose, exposure, violence, and despair, and this text beautifully captures the experience of slogging forward with those ghosts. Our homeless community walks upwards of 10 miles a day, from meal to meal, camp to shelter, and from one place they're not welcome to another. When the lockdowns happened at the beginning of the pandemic and all the shelters and libraries and fast food dining rooms closed, our homeless community literally had no other legal place to be except trudging endlessly along the sidewalk, as their feet bled and their shoes disintegrated.
Thus, I chose to set the text using a blues worksong because the experience of homelessness is a relentless, involuntary, dehumanizing, and often fatal form of oppression that is well represented by a musical tradition that was developed by enslaved Black people, and was continued into the 20th century by hard-labor prison chaingangs. The driving foot stomps are characteristic of this genre, and are also reminiscent of the endless walking of our homeless community. " -KK

THREE: WITHOUT THE STRUGGLE
based on an interview with Paul Sartin
Without the struggle I ain't me
On the streets, it's alright, it's where I belong
If everything is running smooth then it's too good
I walk as humble as I can
If it ain't sweat, blood and tears
then it aint worth living
I am flesh,
so I'm gonna feed the flesh
And if I can feed the spirit,
well, it needs fed too
I am gonna do me while I can
And oh, there's smiles out there
And oh, when you get those smiles
God it's good, you know?
God it's good.
But the rest of it is hard
So I live hard
Without the struggle, I ain't me
On the streets, it's alright,
it's where I belong
A person comes in all shapes and forms
I should come in small doses
But I don't
Without the struggle I ain't me
On the streets, it's alright,
it's where I belong
If everything is running smooth
then it's too good
I walk as humble as I can.
"This text is based on an interview I did with my friend Paul on a cold February night as we stood outside the Connecting Grounds church, surrounded by crowds of other homeless people, ducking into the church for warmth, then back out to smoke, rinse, and repeat.
For some people who find themselves homeless, it's only a brief interlude, a few weeks or months until they're able to find a somewhere to stay until they can get back on their feet. But for many, homelessness can last for years, or even decades, and become a self-perpetuating cycle of trauma, mental illness, addiction, violence, incarceration, unpayable fees for petty poverty crimes, and physical illness.
At the time of this interview, Paul had been out on the street for about 8 years, and was on any number of drugs. Just about a month after this interview, he got sober, and has maintained that sobriety to this day. He is also off the street now, living with his mother.
Knowing how much he has struggled, I am so proud of the progress he has made. " – KK

FOUR: I AM HAPPY
based on the responses of the Springfield Street Choir
I am grateful
I am learning
I'm a child of God
I am kind and I'm outgoing
I'm a child of God
I am strong and I'm brave
I'm a survivor
I'm a good person
I'm a member of the choir
and I am happyI am awesome and I'm blessed
A child of God
I am confident and capable
A child of God
I'm alive
I am a warrior
I am forgiven
I am beautiful
and I am happy
A child of GodI am happy
when I sing
despite everythingHappy
A child of God
"This song was very much a surprise to me. After a Street Choir rehearsal in December of 2019, I asked all our singers to turn over their attendance slips and write "I am…" and then finish the sentence however they liked. I gave them no prompts or coaching, encouraged them to write whatever they wanted, didn't explain why I was asking, nothing that would bias the responses.
And when I looked through the papers, I have to confess, I was shocked. Winter is a hard time to be homeless, tempers are short, everyone's tired and cranky. And I really expected a lot of answers along the lines of "I am forgotten" or something like that. I got one: "I am sad and depressed." Instead, they were overwhelmingly positive. (There were also a few that were hilarious, like "I am Ralph"… from a guy named Mike.)
I do not wish for anyone to overgeneralize from this song that homelessness is a bucket of laughs. It is not. It is crushingly traumatic in every aspect. But the awful baseline of day to day homeless life renders good experiences borderline-euphoric. And far be it for me to censor their honest responses because they were too positive for my agenda. I asked, they answered. After all, our friends had just done one of their very favorite things — singing in the choir, in a place where they felt safe and loved. Thus, they indeed told the truth. In that moment, they were happy. " -KK

FIVE: SOMEPLACE TO COME TO
based on an interview with Katy, Paul S. & Nino
I lived a rough life my whole life
Slept in a cardboard box full of broken dreams
Seeking safety and finding danger
Trying to meet some basic needs
This claustrophobic crowd
We're like micro-nomads
The same tribe of people
Walking from place to place
With people who don't feel like my people
Thrust together in poverty and space
But this is a place to come and feed the spirit
A home away from homeless
Where we know they love and see us
A place where we can be us
We're wearing wet socks all day long
Walking miles and miles till our feet bleed
Nowhere to lie down, nowhere to heal
Nowhere to sit or sleep or breathe
And some of it is not as bad as people think
And some of it is way worse
And I'm dancing just as fast as I can
And somehow I'm going in reverse
But here
It gives you a peace, a sanctuary
Someplace to come to
This door's always been open
Someplace to come to
Someplace to come home to
Home.
"This is a very bittersweet song about a special place that is gone now. The Connecting Grounds was the church where the Street Choir rehearsed from Day One until the pandemic halted our rehearsals in March of 2020. It was a church, yes, but it was also a shelter, a cafeteria, a meeting place, a grocery store, a clothing boutique, a bike-repair shop, a field hospital, a foster-visit center, and whatever else it needed to be, all in three bays of a strip mall up against the railroad tracks, in an impoverished part of town. It was all that, but it was so much more than that.
Every person I interviewed for this project — the ones quoted here, and the ones not — used words like "sanctuary" and "home." "They love us," they said, over and over and over. And they did — they do — love the homeless and marginalized so well that the neighbors complained. The neighborhood organized. And this little church was told that they either had to stop serving their beloved homeless friends, or they had to leave. So they left, and have created a wonderful constellation of outreach services and others elsewhere in the city that quite literally have kept our homeless population alive. And yet, the thing that is missing is the place for everyone to be together under the banner of love. A place for everyone to come to — home. " – KK

POSTSCRIPT: I SEE YOU
from the poem 'Victory' by Ethan D. Bryan
"The poem 'Victory,' by local poet Ethan D. Bryan serves as the postscript to the Forgotten Voices cycle, turning the viewpoint from that of the unhoused to that of housed people who sincerely wish to help, but feel powerless and confused in the face of suffering. I love this poem because it correctly identifies the first step to lasting change – loving the beautifully human people who make up our unsheltered community.
It does not absolve any of us from helping in every way we can, but it understands that love comes first, and then action follows. I hope this moves you to carry some cash, some hand-warmers, water, food, something, so that you can always be ready to act in love and kindness towards those you meet, that it moves you to advocate for real change." –KK
I see you
through swish and flick
of windshield wipers
cardboard-sign bearing
stoplight waiting
rain-dripping chinI carry no cashI desire to make eye contact
but feel embarrassed for comforts
I take for granted daily, hourly
Reliable transportation
hot showers, good food
supportive family
I see you through
side-eye glances,
waiting on an overdue green
Dare I open doors
offer to take you to lunch
warm, dry respite on a
cat-and-dog-hair-covered couch
Is that wise, is that safe
What about my kids?Simple, naïve honest prayers
do they honor God and neighbor
or just assuage guilt?I'm sorry I don't say anything
I'm sorry I don't give anythingBut I see you
beautifully human
and hope you know
you are loved.
MEET THE SPRINGFIELD CHAMBER CHORUS
SOPRANO
Kathryn Cole
Taylor Edwards
Amanda Hake
Amy Hoogstraet Safley
Abby Glenn
Emily Melton
Aubrey Smith
Lauren Vomund
ALTO
Juliana Beatie
Emily Bowen-Marler
Amy Brammer
Shelly Clark
Tiffany Ketterman
Katie Kring
Stacey Luehrs
Vicky Scott
Courtney Wright
TENOR
Spencer Dawson
Brad Groves
Zephan McGlasson
Jonathan Schott
Alex Smith
Ethan Sykes
Dustin Surber
Shawn Vomund
BASS
Taylor Bryson
Andrew Edwards
David Everett
Joe Hamm
Josiah Ketterman
Andrew Luehrs
Zach Reese
Jerry Scott
Zach Seltze
Artistic Director: Chris Brammer
Associate Artistic Director: Amy Brammer
About Us
Dedicated to vocal excellence, the Springfield Chamber Chorus provides inspiring and artistic a capella performances of both sacred and secular literature to Springfield, Missouri and the surrounding regions.
The Chorus has toured throughout Missouri and Northwest Arkansas and has had the honor of performing at the 2012, 2016, and 2020 Missouri Music Educators Association Conferences as well as the 2015 Missouri Choral Directors Association Conference.
More recently, Springfield Chamber Chorus was invited to present a "Singing and Cinema" performance at the 2021 MCDA Summer Conference. Founded in 2008 by Kelly Garrison, Jim Davidson and Amelia Davidson, the virtuoso ensemble tours annually and instills deep musical appreciation in both patron and performer.

MISSION
Springfield Chamber Chorus acts as ambassadors, artists, and educators, integrating choral music into the life of our community through meaningful experiences for both singer and audience.
VISION
Springfield Chamber Chorus is a prestigious choral ensemble serving a universal art form.
VALUES
Pursue artistic excellence
Commission new works
Program varied choral repertoire
Support emerging talent
Foster lifelong engagement
Promote artistic collaboration
Community Impact Initiatives
The Springfield Street Choir, which started is our choir for the homeless and under privileged in our area "Because everyone deserves a chance to sing".
Supporting emerging talent by commissioning new choral works from local and area composers.
Upcoming: Establishment of the Springfield Chamber Chorus Composition Competition rewarding local, national, and international compositions with monetary prizes and premier performances.
Upcoming Establishment of the Springfield Chamber Chorus Scholarship Fund to provide financial support for high school seniors and current college students who are pursuing a degree in music education or performance.
Singer Impact
SCC provides an opportunity for locals from all age groups, walks of life, and educational background to develop and enhance their love and talent for choral artistry by offering a place outside of education and religious avenues for musicianship.
Music, in and of itself, provides an environment that fosters a sense of community from those who would not otherwise connect. Making music enables us to connect with our audience on a deep level while conveying messages that, through spoken word alone, would not be heard.
Audience Impact
SCC takes deep pride in connecting with their local and distant audiences through music making. Audience members have the opportunity to hear sacred and secular choral works from composers who have created strong traditions in choral music across the world, to our local and emerging artists here in Springfield, Missouri. By programming varied themes and messages within each concert, we work to give our audience members a connection to music, its ability to speak to us, and the way it can bridge gaps that are seemingly too wide to cross.
Community Partners
University Heights Baptist Church
Connecting Grounds
First Friday Art Walk
Council of Churches
Springfield Regional Arts Council
Missouri Arts Council
Chris Brammer, SCC Artistic Director
Springfield Chamber Chorus is excited to welcome you to the 2021 MCDA Summer Convention in Springfield, MO. We feel so privileged to have been invited to perform for you this evening, and to share our "Singing & Cinema" experience with such an elite audience.
Tonight, our presentation pairs the documentary "Songs from the Street" about the SCC project Springfield Street Choir with the world premiere performance of "Forgotten Voices" by Springfield composer (and SCC alto) Katie Kring. After witnessing the moving performance by the Dallas Street Choir at the 2018 ACDA conference, Katie was inspired to bring their model to life in Springfield and, with help and support from Springfield Chamber Chorus, the Springfield Street Choir was born. As Katie became more deeply involved with Springfield's unsheltered population and became more acutely aware of both the struggle and the beauty of these very human individuals, she created "Forgotten Voices" as one small way of allowing their voices to be heard.
The idea of "Singing & Cinema" stems from the choir's desire to meet our audience where they are, and to introduce good choral music into situations where it might not be expected but can, nevertheless, enhance the experience. In 2019, Springfield Chamber Chorus presented the first "Singing & Cinema" experience at Alamo Drafthouse in Springfield. It featured the film, "The Way" about a man's journey on the pilgrim's road to Compostela, and was preceded by choral music composed on or about the pilgrim's route as well as spoken testimonials by people who have walked "the way". Before being interrupted by the pandemic, "Singing & Cinema" had been selected as one of Alamo Drafthouse's "local series" and was a candidate for national rollout with the Alamo brand. 2020-2021 plans include a showing of "Bottleshock" with accompanying wine and choral music pairings, as well as "Singing & Cinema" presentations by local high school and collegiate ensembles.
Thank you for attending our presentation this evening, and we appreciate your understanding of the challenges faced when restarting a community ensemble post-pandemic. We sincerely hope that you are moved not only by the music you will hear, but also by the stories you will see and the people you will meet. We encourage you to leave this experience with a new and different perspective about the homeless "problem" in your own community and with a heart for advocacy and action.
Help us spread the word
We want to preserve this music for posterity, and distribute it widely so that our homeless friends' voices can be heard by people everywhere. To do that, we are raising money to record and release this song cycle as an album. We would be most grateful for your contributions.